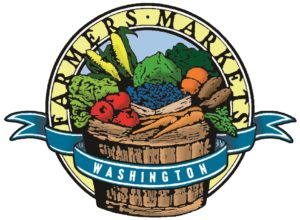 The Washington State Farmers Market Association was founded in 1978 to promote local and direct farm sales, facilitate networking, educate farmers markets and producers, research best practices, and share technical information. The work continues on and today includes also advocating for policies that promote farmers markets, small farms, and food access. Currently, 114 Washington farmers markets are proud members of the WSFMA, representing over $44.2 million in annual sales from thousands of farm, processed food, prepared food, and craft vendors (2015).
93 Pike St., Suite 316 | Seattle, WA 98101 | (206) 706-5198
info@wafarmersmarkets.org | www.wafarmersmarkets.org


Washington State University's Small Farms Program was created by the state legislature in 2000 to serve small-scale and under-served farmers through educational programs and research.  A statewide stakeholder group, known as the "Farmers Market Action Team," included WSU Small Farms Program researchers, market managers, non-profits and state agencies. This participatory team develops grant-funded research and educational projects for farmers markets and direct marketing farmers. The Small Farms Program was a program of the Center for Sustaining Agriculture and Natural Resources and WSU Extension.
---
Updated: 9-19-2016