By Colleen Donovan & Karen Kinney
Updated: 9-19-2016
In 2015, the Farmers Market Action Team created a series of graphics to help increase sales of specialty crop farmers. The strategy is to "feed the word of mouth" by targeting core shoppers and getting them to talk up shopping at farmers markets to their peers, friends, and family. The graphics are available in English and Spanish. They are free for any farmers market or specialty crop farmer to use for marketing and promotions. The project received funding from the WSDA Specialty Crop Block Grant Program.
For more information about the project and ideas on how to use the graphics, please see:  FindIt@theFM Promotional Kit 2015  (PDF)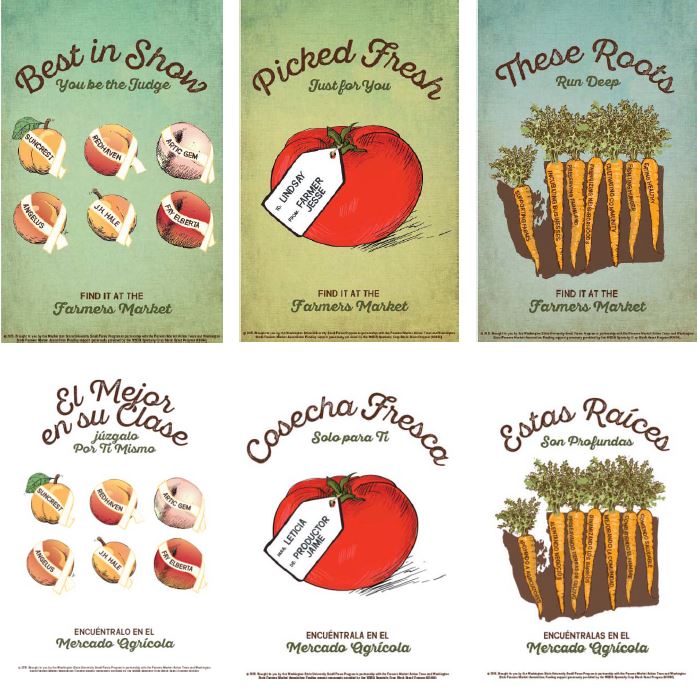 Graphics in English – PDFs.
May take a little while to load as the files are large.
Best in Show – full color
Best in Show – no background
Picked Fresh for You – full color
Picked Fresh for You – no background
These Roots Run Deep – full color
These Roots Run Deep – no background
Graphics in Spanish – PDFs
El Mejor en su Clase – full color
El Mejor en su Clase – no background
Cosecha Fresca – full color
Cosecha Fresca – no background
Estas Raices – full color
Estas Raices – no background
Files are also available as JPGs in DropBox. Click here.
For ideas on where to order print materials, please see Tips on Where to Order Print Materials.